With Google My Business (GMB) being a newer social platform, many business owners are not aware of the effect it has on off-page SEO. Not only is it important to claim your business profile and fill out all of the required information, but it is also crucial that you have an optimized business listing to gain all of the benefits. Getting a competitive advantage requires knowledge of secret tricks that many people don't think of, such as geotagging photos. Let's dig into how to geotag photos for your GMB listing.
Using EXIF data to Geotag Photos
Without even realizing it, when you take a picture using a digital camera, it captures all types of metadata that you don't know is there. This is called Exchangeable Image File Format, or EXIF data. It captures the file formats of the images and, in addition, finds much more information, including camera properties and GPS location.

For example, let's take a look at a photo taken of a Domino's restaurant in Erie, PA: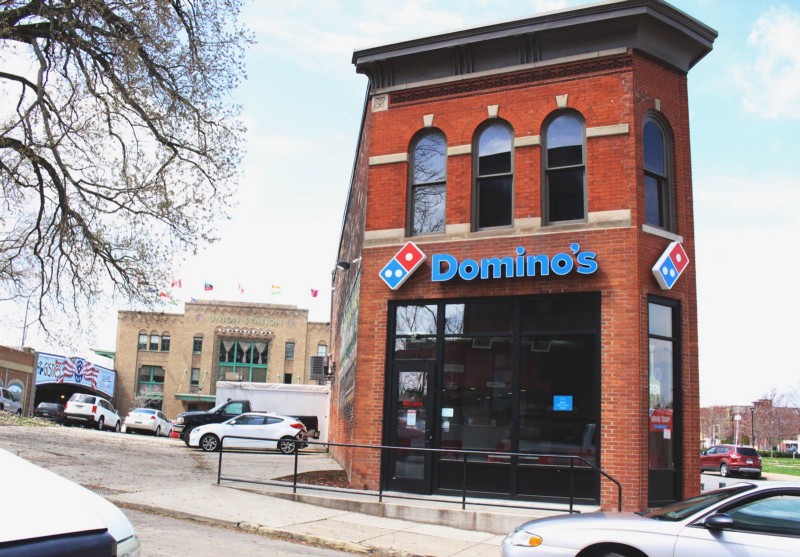 Now let's go into the properties of the photo and take a look at its EXIF data: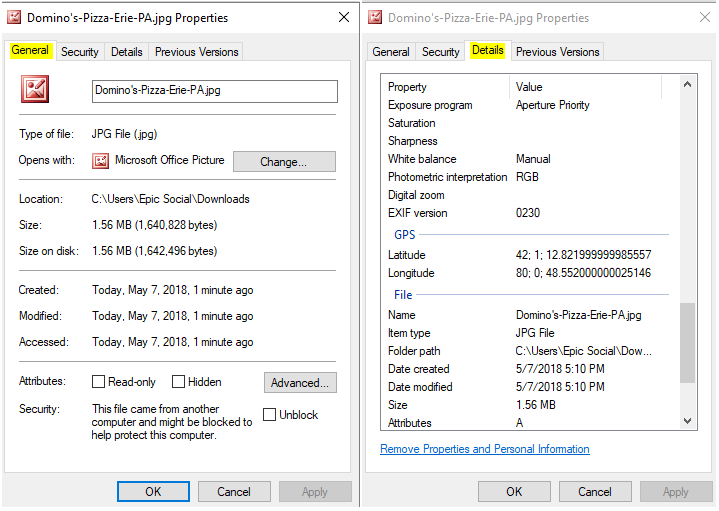 In the General tab, you can see: general information about the photo, such as the name and format of the image, the size of the image, and the location and date it was taken. Moving over to the Details tab, however, there's more in-depth information such as the camera type, the camera settings that were used when capturing the photo, and additional information about the image in pixels, dots per inch (dpi), bits, and compression.

Shockingly, there are more data fields in one photo on your listing than there are in your entire listing. This only emphasizes the importance of using EXIF data to your advantage when you geotag photos. Unfortunately, you can't rely entirely on the camera to fill in all of the data stored within your photos. It tends to leave other important information out, such as the title and subject of the photo, tags that describe it, comments, and the author. While these may not seem critical to you, they are great keyword opportunities to create intricate associations related to searches.
GPS and Geotagging Photos
Upon capturing an image, we had mentioned that it stores the location that the image is taken at. This is geotagging. When you geotag photos, you are demonstrating that the photos posted on your listing are associated with your geographic location. The location in the EXIF data under the Details tab will appear like so: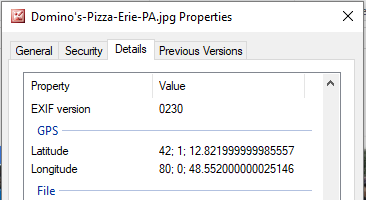 The reason Google loves geotagged photos is that GPS data makes the photo more reliable. If the photo is automatically geotagged, it will express the exact location in latitude and longitude, as shown up above. When you manually Geotag Photos, you can also include the geographical location, such as the state or city the photo was taken in.
Does Geotagging Photos make a difference?

The answer is yes. Geotagging does make a difference. When you geotag photos, you are including relevant information about your business that only search engines can see. Search engines will use this data to determine whether they should help photos from your website or GMB listing rank for local search queries. The more accurate information, the better.
Use ASAPmaps for Geotagging Photos.
Geotagging your own photos can be confusing and time-consuming. Gain peace of mind with ASAPmaps handling all of your image geotagging needs, while you worry about day-to-day business operations. Not only does ASAPmaps publish and Geotag Photos, but we will also fully manage your Google My Business listing by following the
2019 GMB best practices
. Get started with ASAPmaps today.