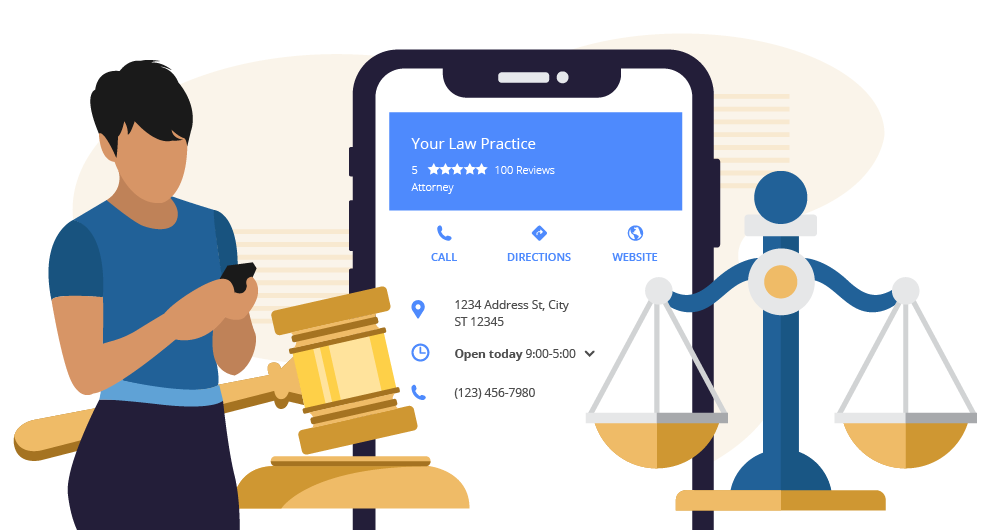 Local SEO for lawyers is highly competitive — which shouldn't be a surprising verdict for anyone in this highly competitive profession. As with winning over clients and winning cases, positioning yourself or your law firm atop local search results requires finesse and keen attention to detail. Because it's such a crowded space (especially in larger metro areas), the little things matter even more so than they would for a more "niche'' local business.
That said, identifying and promoting a niche within your practice can give you an edge over competing firms in local SEO. Having a firm grasp on who you are and what you do best is half the battle — the other half is conveying that to Google search users at the very top of search engine results pages (SERPs).
Why GBP is a great starting point to boost local SEO
Like regular organic SEO, local SEO has many layers — far too broad for one article. But a good starting point, without question, is your Google Business Profile (GBP) listing. Why? 
Visibility —Your GBP listing has its own dedicated space on page 1 of Google SERPs when users search for your firm directly.


Immediacy — From your GBP listing, you can give potential clients an instant snapshot of who you are (images, videos, text, branding), what you do (business categories and services offered), where to find you (office location and web address), and when and how to get in touch (hours, phone number). You can potentially "sell" them right away.


Reach — Google draws from the information in your GBP listing for its Local 3 Pack (where it bundles what it views as the most relevant, reputable, and conveniently located law offices based on the search query), Local Finder, and Google Maps. 
Elements of a Successful GBP Listing 
Name
The key here (and all of the elements parsed out in these subheadings, for that matter) is consistency. If you are an established firm, do not mess around — use the identity you've already invested in and established. 
If you are an attorney just starting out or trying to build a clientele, you might consider branding that somehow captures your specialization and/or the geographic area you serve (e.g. Personal Injury Lawyers of Poughkeepsie). Locals might search for those exact keywords without even knowing you exist, and there is an increased probability that Google could put you right in front of them. 
Bonus: Individual lawyers and law firms have separate categories within GBP, which means you can have a practitioner listing as a lawyer and also have a general GBP listing for your law firm as a whole, so long as there are multiple lawyers who work at the law firm. This will give you extra visibility in Google Maps.
Address
Ensure that your mailing address matches your physical address — in other words, do not use a PO Box if you can at all avoid it. Clearly legible and professional signage displaying your address also factors into Google's verification process. If you have multiple locations, this applies across the board
Bonus: Because local search results can vary significantly even within the same city based on the searcher's location, the exact geographic coordinates of your law offices can mean a great deal. If you can set yourself up in a neighborhood where there are no existing law firms, or at least without existing law firms who specialize in the same practice areas, you gain a unique advantage in "near me" search queries.
Phone Number
The phone number you list should provide as direct of a connection to your office location as possible.  If you opt to list a trackable phone number as your primary (you should), using a local area code will appear more trustworthy. The trackable "dummy" number will be associated with your actual phone number, so there is no penalty to NAP consistency, which is crucial to citation building.
Landing Page
This is where organic on-page SEO and local SEO intersect — landing pages (those users "land on" by clicking the link in your GBP listing) should possess quality content and user experience that sync up with expectations, both in terms of the services they're looking for and the area they're looking for them in.
If you have a single office, the landing page you list can simply be your homepage. If you have multiple locations, it's recommended you create a landing page for each.
Categories and Services
The categories and services sections of GBP offer great opportunities for lawyers to tailor their local SEO focus. As far categories are concerned, the most specific option you can choose from Google's list is the best. For services, add all of your practice areas and descriptions for each. 
Imagery and Videos
Do not underestimate the impact of imagery and video on your GBP listing — quantity and quality of visuals go a long way in promoting your credibility, professionalism, and your humanity. Images should be a minimum size of 720 x 720 pixels, while video uploads are limited to 750 megabytes.
Make sure to capture the following:
The outside of your office (including signage that EXACTLY matches your firm name as it appears in your GBP listing)
The inside of your office, including waiting and reception areas
Staff members
Logos/branding
Practice-related shots or clips  
Reviews and Questions
These areas represent yet more opportunities to showcase both your knowledge and your people skills (things clients often look for in attorneys!) Additionally, they serve as more content (including relevant keywords) for Google to factor into its search algorithms. Today's clients are savvier than ever about doing their online research diligence, so getting more Google Business Reviews is imperative to creating a compelling case for yourself.
How does ASAPmaps make local SEO for lawyers easier?
ASAPmaps makes local SEO for lawyers easier by optimizing your Google Business Profile listing in all of the areas described above, laying the groundwork to exceed your peers in local search rankings. Your GBP listing will be updated weekly, and we'll update you monthly on the progress you're making. The evidence skews heavily in your favor.