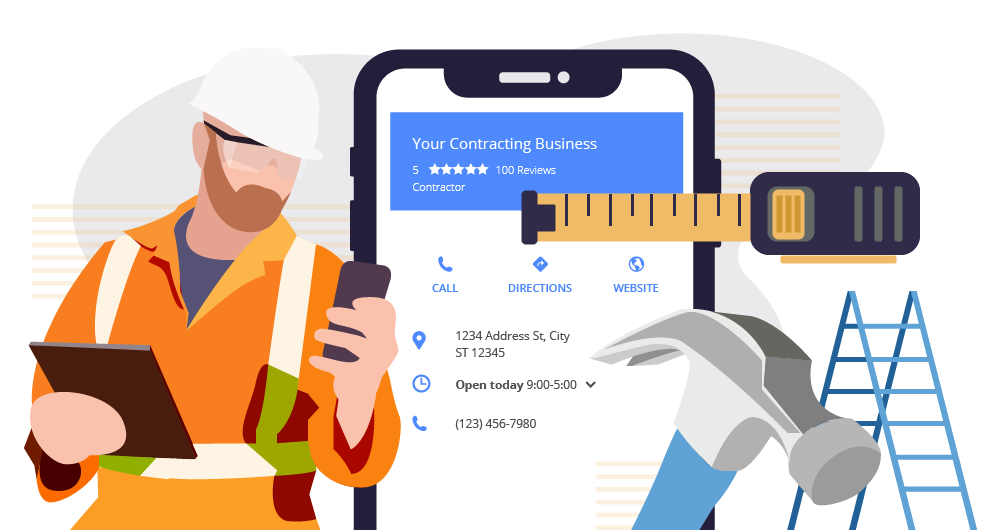 Local SEO for contractors is imperative — far outweighing traditional organic SEO in importance. After all, your work is hands-on, and customers and projects that are not within reach of those working hands will not pay the bills! Sure, there is a chance a customer may happen upon you through a well-written blog post concerning your field of expertise (using research-related keywords) — but there is a much better chance they will find you by querying a service + geographic location or "near me" (a buying-related keyword phrase).
As a contractor, your first priority should be courting customers who want to contract you — those with a buying mindset using the aforementioned geotagged keyword phrases. Search engines like Google are very keen at interpreting user intent by what they include in their search queries, and respond accordingly with the results that are displayed. When the name of the city, a zip code, or "near me" is part of the query, proximity is elevated as a local SEO ranking factor.
Google Business Profile for contractors
A great place for contractors to improve their standing in local SEO is by claiming, creating, optimizing, and verifying a Google Business Profile (GBP) listing. That's because GBP profiles feed directly into Google's Knowledge Panel and Local 3 Pack (via Google Maps) areas, which appear on the very first page of search engine result pages (SERPs). And for a motivated search user, that could be all that is needed for the conversion into a paying client — your primary information is right in front of them on Google. If they like what they see, they can call you, message you, or be directed to a website landing page from your GBP profile. 
To ensure your listing is as impactful as possible, be sure to attend to the following items. Think of it as setting up the utilities before it's move-in ready.
The basics
First thing's first — ensuring your name, office address, phone number, and website URL are listed accurately and exactly as they appear elsewhere on the internet, whether that be in online directories, other websites, and your own website (every time this information appears is called a citation). 
And of course, the business hours reflected in your GBP listing should be up to date — if you're not open when you say you are (or vice versa), that's a potential lost customer and lost revenue. 
Service area
By and large, contractors tend to be service area businesses (SABs) — you go to the customer within a predefined geographical area to deliver a service. You can define up to 20 service areas in Google Business Profile during setup — include as many city or town (or county) names or zip codes as necessary to give Google the best idea of who to display your business to.
Services offered
Another vital aspect of GBP for contractors is categorizing yourself properly. Google Business Profile Services allows you to break down exactly what you offer to customers (and how much it might cost them) from your GBP listing. Thoroughness and specificity are your friends here, as giving the fullest and clearest picture of what you can do is not only beneficial to search users, it's also hugely helpful to Google. The better Google is able to associate well-defined services within a well-defined service area to you, the greater the likelihood you will appear in Google Maps results or SERPs, even if users are not searching you by name. 
Photos
Trust can be a huge bugaboo when it comes to contractors — after all, you are entering private property and spending significant time around private possessions and valuables. Not only that, poorly performed work can seriously detriment the functioning or aesthetics of that property. 
Luckily, GBP can help you allay those concerns by posting photos of your personnel and your prior work. Familiarity begets comfort, and comfort begets trust. Do not forgo the opportunity to make your business feel tangible and real — it could go a long way to converting that customer on the fence about having you install their fence. 
Reviews
If photos show you're for real, reviews tell you're for real. Getting more Google Reviews should always be a priority in local SEO for contractors, as they are the quintessential example of social proof — using other people's opinions as a basis for evaluating your credibility, authenticity, and value. Both quality and quantity of reviews count — people want to not only know you've done a good job in the past, but you've done it consistently. Whether good or bad, be sure to respond to Google Reviews of your business graciously, thoughtfully, and respectfully. If someone comes at you with a problem, offer a solution. If things start to feel contentious, offer to talk off-platform.
Other local SEO considerations for contractors
Of course, there is more to local SEO than Google Business Profile — every aspect of your web presence should be taken to account. That includes social media, YouTube, and your own website user experience (specifically landing pages and service pages you may link to from your GBP listing). If you want to really get into it, check out our 2021 Local SEO Checklist. If you'd rather focus on your main line of work, don't worry! 
Let ASAPmaps handle building out your GBP listing while you build out your business. And for all your other local SEO needs, check out our sister business at Epic Web Studios.