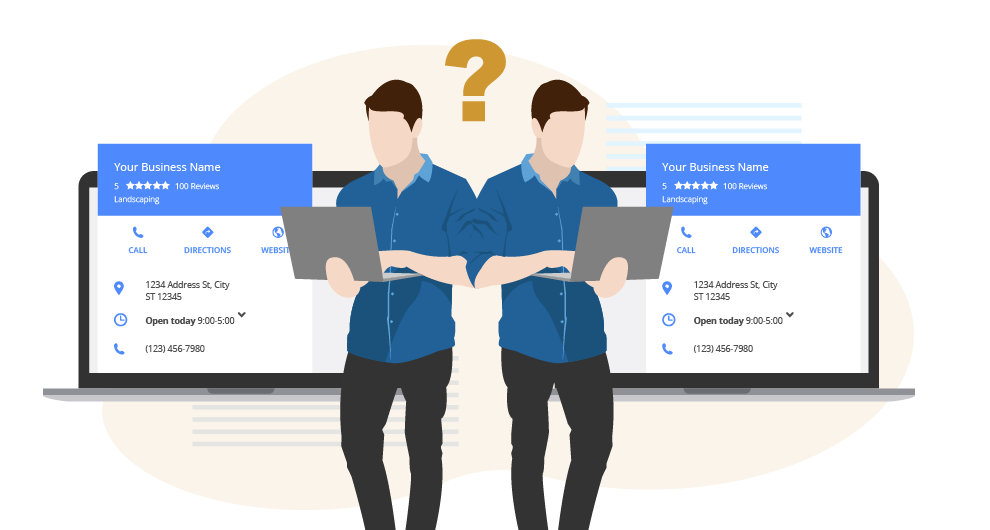 There are impostors among us — and they could be quietly sabotaging your impact in local search. 
Duplicate Google listings present a number of problems. For one, they could confuse or mislead potential customers. The second major issue is the dilution of social proof — we've mentioned in previous blogs the importance of getting more Google Reviews. More and more positive reviews cement credibility, allowing new customers to make informed decisions based on the experiences of past customers. When Google Reviews are scattered between duplicate listings, it detracts from your ability to profit and benefit from that accumulated goodwill.  
Don't get duped by duplicates; do something about them!
Verified Google listings
Our ultimate goal by the end of this exercise is one verified Google listing per business location or professional. If by chance you have not claimed your Google Business Profile listing yet, make absolutely sure you do so. Otherwise:
Google will display an unverified listing for your business, which might have searchers questioning your legitimacy (e.g., Is this even a real place?) If phrases like "own this business?" or "claim business" show up on the listing, then it's unverified.


Someone else might claim it instead — and given the influence of Google Business Profile in local search, you'll want to remain in control of the information you're sharing with customers! You can request access to a listing that has already been claimed through the Google Business Profile dashboard. 
Detecting duplicate Google listings
Once Google verifies a GBP listing, subsequent listings that attempt to use the same location and/or information will be flagged as duplicates and not appear in Google Maps. However, you will be able to see them in the "Account Summary" area of your Google Business Profile dashboard. From there, go to "Duplicate Listings" and select the locations you would like removed, either individually or in bulk (by choosing "Remove" under the three-dotted menu icon). 
P.S. Take extra special caution to not accidentally delete the Google listing that has been verified; otherwise, you will have to go through the verification process all over again.
P.P.S. Ensure any mislocated Google Reviews have been transferred to the verified listing before proceeding with deletion of the others. Google Support must handle this on your behalf by "merging" the listings. 
Resolving four duplicate scenarios
There are three main categories of Google Business Profile listings — for traditional brick-and-mortar storefronts, for service area businesses (no physical storefront), and for professionals and practitioners. 
Same business name, same physical address
Both listings verified, you are the owner of both: Delete the duplicate listing from your Google Business Profile dashboard — this will unverify it and allow the listings to be merged, preserving any information or reviews you may have wanted to keep from the duplicate listing. To merge listings, reach out to Google support directly.
Both listings verified, you do not own one of them: Claim ownership of the listing you do not own as described earlier. The disputed owner will have seven days to either grant or deny access to the account. If denied, you have the opportunity to appeal. If there is no response at all, you will have the opportunity to verify the listing yourself.
Same business name, different physical address
If the duplicate is of an old or outdated address, it's recommended you contact Google directly through the Google Business Profile Twitter account (@GoogleMyBiz) or through the Google Business Profile contact form.


If the duplicate is for a location that was never accurate or never existed, find the listing on Google Maps, suggest an edit, and check "yes" for "This place permanently closed." When asked for the reason, choose "Never Existed."
Service area businesses
Service area businesses (SABs) may not have a publicly accessible office or storefront at all, instead serving a specific geographic area (e.g. contractors, landscapers, etc.) Duplicates are sometimes generated from third-party data and thus remain unclaimed and unverified. 
Both listings verified, you do not own one of them: Contact Google Business Profile support to obtain ownership of the duplicate listing so they can be merged.


Only one listing verified: Mark the unverified listing as "permanently closed." When asked for a reason, select "Private." It's often the case that residential addresses are used to register SABs, which are hidden in search results.
Practitioner listings
Google Business Profile allows public-facing professionals such as doctors, attorneys, insurance agents, and realtors to create their own GBP listing at a shared address. However, should one of these professionals leave the practice or office, or is someone who does not interface with the public directly, Google must be informed. You can suggest an edit and choose "permanently closed" as described in previous sections.
Keep it real with ASAPmaps
Ensure your customers are only getting the real deal in Google Search with ASAPmaps. Our service sets you up for success with an intensive audit and clean-up of existing listings, including duplicates. From there, it's all about equipping you with all the tools, content, and responses needed to make you — the true you — stand out.